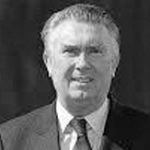 President, Association of MBAs (AMBA), London, UK
Sir Paul Judge was the President of the Association of MBAs (AMBA), the organization that accredits MBA programs worldwide, and the key benefactor of the Judge Business School at the University of Cambridge. He was also Chairman of the Wharton Business School Board for Europe, Middle East and Africa, and a member of the Advisory Board for HEC in Paris. He was involved in other educational activities as Chairman of the Royal Society of Arts, Manufactures and Commerce, of Teachers' TV, of St Dunstan's College and of the Businessdynamics Trust, was Deputy Chairman of the American Management Association based in New York and Immediate Past President of the Chartered Management Institute.
His commercial activities included being Chairman of Schroder Income Growth Fund plc in London and an Independent Director of Standard Bank Group Ltd of South Africa and of Tempur-Pedic International Inc. of Kentucky.
Sir Paul was an Open Scholar at Trinity College, Cambridge and a Thouron Fellow at the Wharton Business School where he gained his MBA. He spent thirteen years with Cadbury Schweppes and in 1985 he led the £97 million buyout of their food companies to form Premier Brands Ltd which was successfully sold for £310 million in 1989. He was then Chairman of Food from Britain, Director General of the Conservative Party, and a Ministerial Adviser at the UK Cabinet Office.
Sir Paul Judge passed away on 21st May 2017.