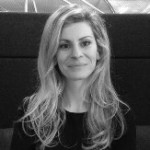 President of the i-MBA Alumni Association
Athina has studied International Relations in Greece, Public International Law in France and holds an MBA International Degree from AUEB. She is a dynamic member of the Greek startup scene with multiple distinctions in national and international level as well as a TEDxNTUA speaker.
In 2013, she founded the successful startup Glossopolis, a travel platform that rewards tourists with discounts on local businesses when they order or buy in Greek. Glossopolis was awarded by the European Commission as the success story of May 2016 due to its growth and innovative impact on national economy. Thanks to her entrepreneurial path, Athina was also granted a full scholarship for the i-MBA.
She also works for the Outbound Sales Development of the Boston based startup Workable, one of the best recruitment softwares globally.
In March 2017, she has been elected President of the i-MBA Alumni Board.