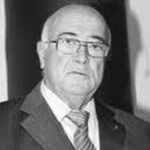 CEO, Tsakos Shipping and Trade, Athens
Capt. Tsakos graduated from the Livanos Maritime Academy and was promoted through the ranks to Captain, Superintendent and Port Captain. He founded Tsakos Shipping and Trading S.A. in 1970. He is a founding Member and the First Secretary of the Hellenic Marine Environment Protection Association (HELMEPA), he is a founding member of URUMEPA in Uruguay, and a founding member of PHILMEPA in the Philippines.
Captain Tsakos has received awards as the Ambassador of Hellenism, by the Greek Government in recognition of his efforts to promote Hellenism both privately and through the Maria Tsakos Foundation, as well as the award of Commander of the Philippines Coast Guard, by the President of Philippines in recognition of Capt. Tsakos' personal contribution to the development of the Philippines' maritime industry and seamen's education. In 2006 he was the recipient of the International Maritime Hall of Fame Award in New York.
Captain Tsakos is a member of several boards, including the Board of Managers & Committee Member of the American Bureau of Shipping, and the International Council Member & Member of the Greek Committee of Bureau Veritas as well as the Member of the Board of Mediterra A.E./Masticha Shop, and the Member of the Board of the Yachting Club of Greece. He is Chairman of the Lloyd's Register Hellenic Advisory Committee, Member of General Committee of Trusties Lloyds Register of Shipping. Captain Tsakos is an honorary Consul General for Ghana in Athens as well as an honorary Consul for Cyprus in Uruguay.