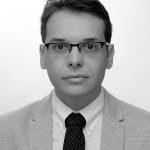 President of the i-MBA Alumni Association
Yorgos' academic career started through the hard science domain of Applied Mathematics at the University of Crete, where he majored in Mathematical Modelization.
Upon completing his military obligations, he took his first professional career steps working for Diadrasi, a firm specializing in lifelong learning and professional development/certifications, as a business development assistant. Drawing from the experience he gained there, he proceeded to found Anelixis, which similarly focuses on professional certification, by adopting an innovative outlook and prioritizing flexibility of processes.
In February 2017, he graduated from AUEB's IMBA Program  (FT19) with a major in Marketing and Business Strategy. His studies allowed him to add perspective and to re-invent himself as a family business entrepreneur. Utilizing his long experience in hospitality and relying on online presence to drive sales, he founded Allegro Luxury Suites & Apartments.
In the latest months, he has added a franchise network Game Hall venture to his entrepreneurial portfolio.
His interests comprise Social Entrepreneurship and Sustainability.