Academic program
The program will be delivered over seven days, following a carefully crafted curriculum that involves lectures, executive talks, and company and cultural visits structured around the blocks of Economic Context, Sustainability as a Concept, Sustaining Competitiveness with Technology, Leadership for a Sustainable Company Culture, and Innovation for Sustained Advantage.
The global economic context keeps changing at an unprecedented speed. The program starts with an overview of the emerging economic landscape, with a focus on the region of southeast Europe. Lessons from business sustaining their competitiveness through the Greek crisis will also be exposed.
The second day concretizes the concept of sustainability. It involves understanding what the new sustainability playing field implies for companies and how companies strategize in order to lead rather than adapt to this new reality. Emphasis is now increasingly being placed on maintaining performance through sustainability, which places the concept directly into the operational reality of businesses.
Day three delves into how the most recent trends in technology -Big Data and Digital Marketing in particular- are influencing virtually all business sectors and how they can become essential tools for accurate and informed decision-making.
The fourth block focuses on how culture and leadership need to be developed in order to support and drive the necessary restructuring propelled by sustainable business models and processes. The Summer School taking place in the cradle of western civilization, leadership insights from ancient Greek philosophy will also be exposed and debated.
The last module consists of applying an innovation framework to selected parts of a business and to investigate how, through innovation, companies can take organized steps towards building a sustainable competitive advantage.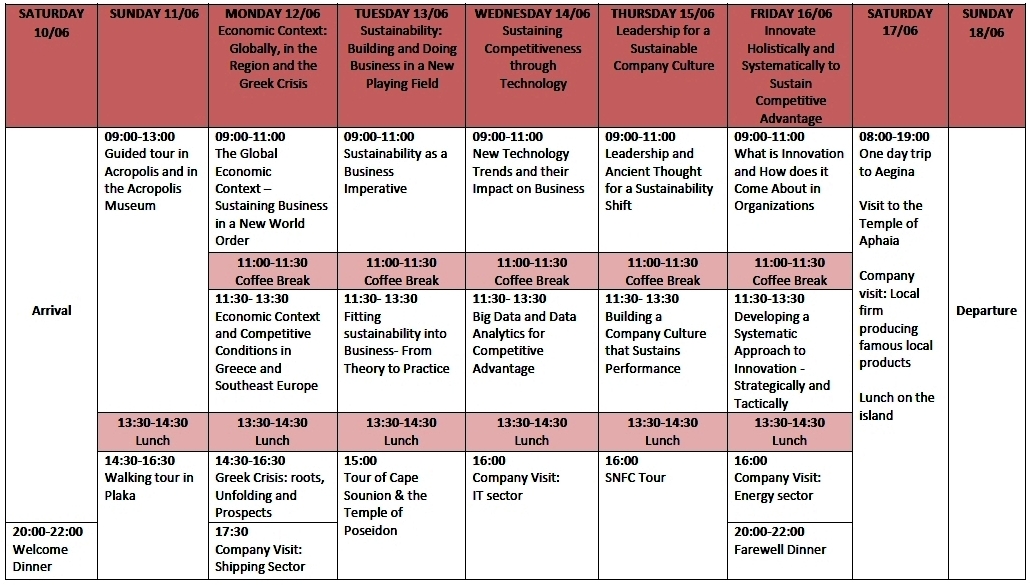 For the detailed academic program, click here.
Learning outcomes
By attending the summer school, students will:
Be able to understand the interconnectedness of global and local challenges related to sustainability in business,
Be exposed to key research findings and applied business solutions in the topic areas presented,
Interact with experts and peers from various business and academic backgrounds.
More precisely, participants will:
Get a grasp of the challenges of economic nature facing businesses globally, regionally and locally,
Become familiarized with the evolving playing field around sustainable economic and business development, by apprehending the logics and impact of international agreements and sustainability frameworks and certifications,
Comprehend new technologies' potential for redefining business models and providing means of thriving in an increasingly customer-centric and connected marketplace,
Understand how leadership development and implementation culture building is supportive of sustainable competitive advantage,
Apprehend how holistic and systematic innovation can sustain competitive advantage.
Faculty
The program is taught by a team of excellent academic staff with extensive teaching experience at the Athens University of Economics and Business, the oldest and most prestigious University in Greece in the areas of Economics and Business Administration, and other renowned universities. Participants will also engage with industry experts and representatives from key international institutions.
Confirmed Instructors
Evaluation and Grading
Equivalence of 3 ECTS credits (50-70 hours of lecture).
Mode of Assessment:
Class participation (25%)
Individual Paper (50%)
Group presentation (25%)
Corporate and Cultural Visits
Each day, the program structure features either a company visit or a cultural activity, carefully designed to provide participants with a better understanding of the topics discussed in the lectures. These activities take an in-depth look at the business environment in Greece and provide a better understanding of the social and cultural environment of the country.
Below you may find a tentative list of the activities planned for this year's program.
Company visits to:
– Shipping company
– IT company
– Energy Sector
Cultural visits:
– Guided tour to the Acropolis and the Acropolis Museum
– Walking tour in Plaka, the old historical neighborhood of the city of Athens in the shadow of the Acropolis
– Tour of Cape Sounion and the Temple of Poseidon
– Stavros Niarchos Foundation Cultural Center
– One day trip to the island of Aegina (tour of the island, visit to the archaeological site of Aphaia and company visit to a local firm producing and packaging the famous Aegina's pistachios)
Supporting Partner