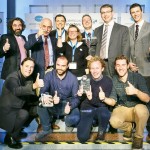 YOOR, a social network application for coastal tourism and recreational boating, co-founded by the i-MBA alumnus Jean-Robert Malandra and Philippos Beveratos, was announced regional winner of Greece in the European Satellite Navigation Competition 2014 and was ranked in the top 25 among 435 business ideas.
YOOR co-founders presented a smart business proposition in Berlin last week that attracted the attention of both investors and satellite navigation experts. YOOR is the social app that responds to a market need and will change the world of sailing. It enables users to find their ideal mooring location within range and exchange, share experiences with other members of the community. The comparative advantage of YOOR to current available resources is that it manages to match collective intelligence of sailors from processed data such as Satellite navigation systems and crowd sourcing from social media. YOOR is addressed to a market of 350 million annual coastal tourists in Europe, with important growth potential within the next 5-10 years. It targets to create value for the ecosystem of the destination hence foster the development of regional economies. YOOR brings what the sailing world needs right now.
For further information, you may visit YOOR's website at http://yoor.eu/.