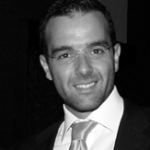 Group CEO, Antenna Group
Theodore M. Kyriakou was born in 1974.
He is a ship owner, a shareholder of the global oil shipping business that his family controls and Group Chief Executive Officer of the Antenna Group.
He also oversees the investment team that manages the financial assets of the Kyriakou family.
He graduated cum laude from Georgetown University with degrees in International Business and Physics. He was awarded the Treado Medal for Physics.
He is a member of the Advisory Board of Cambridge University's Centre for International Business & Management (CIBAM) and a Board Member of Endeavor Greece, a global non-profit organization supported by international business leaders. He sits on the Board of Raine Group, the New York based global merchant bank focused on technology, media and telecommunications. Raine Group manages Raine Partners and Raine Venture Partners, private equity funds focused on entertainment, digital media and sports, where Antenna Group is a cornerstone investor.
Under Theodore's leadership, Antenna Group built a unique track record in turning around and growing businesses. His achievements include the well timed sale of the Antenna Group's media holdings in Bulgaria in 2008 for approximately USD980milion, after an investment of USD3,2 million in 2001. This transaction was reported as one of the highest returns on investment in the media industry.
The Antenna Group, privately owned by the Kyriakou family, is an international media and entertainment organization operating across Europe, North America and Australia investing in free and pay TV, digital media, e-commerce, TV production, radio and music.