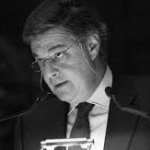 International Corporate Advisor
Takis Arapoglou is a Corporate Advisor, with a long international executive career in Corporate and Investment banking, International Capital Markets and in managing, restructuring and advising Financial Institutions.
He has been CEO of Commercial Banking at EFG Hermes Holding SAE Group, operating in the Middle East and Africa (2010-2013). Earlier, he was Chairman and CEO of the National Bank of Greece Group (2004-2009), Chairman of the Hellenic Banks Association (2005-2009) and Managing Director and Global Head of the Banks and Securities Industry for Citigroup (1999-2004).
He has served in several bank boards in Europe and Africa, as well as on Boards of Educational Foundations, including the Institute of Corporate Culture affairs in Frankfurt, as Chairman.
He is currently holding the following non-executive board positions: Chairman and member of the Corporate Governance committee of Tsakos Energy Navigation (TEN) Ltd., Vice-Chairman and member of the membership and compensation committee of Titan Cement SA, board member and member of the compensation committee of EFG Hermes Holding SAE and board member and member of the audit and risk management committees of Credit Libanais SAL.
He is also Chairman of the International Advisory Board of Tufts University in Boston, Ma. and a member of the Business Advisory Council for the International MBA program of Athens University of Economics and Business.
He has degrees in Mathematics, Naval Architecture & Ocean Engineering and Management from Greek and British Universities.