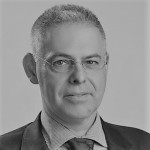 Dr. Emmanuel Alexandrakis, Head of Market Strategy & New Markets Development, WifOR Institute and Adjunct Professor in Health Sector Strategy, MBA International, Athens University of Economics & Business 
With over 30 years of professional experience as an economist, and an extensive Academic level teaching and research background, Dr. Alexandrakis has a combined managerial, and research, public policy and strategy analysis background, with a special focus in the Health sector and how the sector can promote wellness and economic development. He has served several executive positions in the pharmaceutical sector and in high-level government positions (Hellenic Republic Special Secretary of Tourism, CEO of the Greek Maritime Health Insurance Organization etc.) in Greece and the EU.
Today he is a Global Market Strategist at the WifOR Institute, Adjunct Professor for Health Sector Strategy at the MBA International Program of the Athens University of Economics and Business, but also serves as a Senior Research Fellow at the Management Science Laboratory of the same University and a Research Associate of the University of Piraeus Laboratory of Health Economics and Management. Currently, he is also an Adviser to the Greek Minister of Tourism, with a responsibility for promoting Health Tourism, among other things. He has also served internationally as a consultant, as well as on the Expert Review Board of the WHO – European Office for Investment for Health and Development.