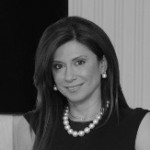 Vice President & Managing Director, Pharmathen S.A.
Nelly Katsou was born in Athens in 1965.
In 1989 she graduated from the University of Athens, School of Pharmacy.
She started her career in 1990 by establishing Pharmanel SA, a pharmaceutical company based in Athens, where she was co-owner and Managing Director until 2003. The company showed tremendous growth during these years.
Concurrently she was also a major shareholder in the family owned pharmaceutical company Pharmathen SA and in 1993 she became Vice President of the Board of Directors and Managing Director. As a leading member of the company, together with her brother, she envisioned and methodically worked to make Pharmathen one of the largest pharmaceuticals companies in Greece and in Europe.
In addition Ms. Katsou is Vice President of the Board of Directors of Hellenic Management Association (EEDE), member of "Innovation – Education – Entrepreneurship Committee" of the American Hellenic Chamber of Commerce, member of W.I.B. Committee (Women in Business), member of the General Council of SEV (Hellenic Federation of Enterprises), member of the board of "Supporters Club" of Foundation for Economic & Industrial Research (IOBE) and member of Advisory Board of EGG (Enter-Grow-Go).