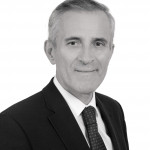 Vice President,  ION  group of companies
Stathis Loizos was born in 1962. He holds a Maitrise en Sciences Economiques from the University of Strasbourg, France,  and an MBA in Finance from Stern Business School, New York University ( NYU ). He is the Executive Vice President of the ION group of companies.
Prior to joining the ION group in 2008, he was General Manager at ELSA SA, a steel packaging company in Greece ( 2002 – 2007 ).  Between 1989 -2001 he had held various executive positions at ELSA SA. He served as President of the International Packaging Association ( IPA ) between 2005 – 2007.  He is a Non Executive Director at the Board of Directors of Navios Maritime Holdings and Head of its Audit Committee. He is a member of the Board of Directors of IOBE and also of the Federation of Hellenic Food Industries ( SEVT ).