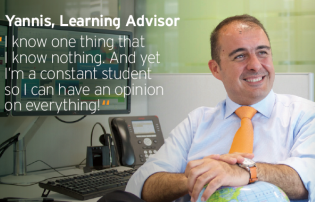 Yannis Batsakoutsas, PT 1 i-MBA alumnus and Senior Learning Advisor for Citi's International Franchise Management (IFM), is invited to share his experience with current students and graduates of the Program on Friday, April 1st, at 18:00.
His lecture will be the first of the 'Alumni Series' lectures, organized by the Career Office of the Program for 2016. Yannis will discuss with participants about the job market and job trends  in the UK and about the opportunities in the banking / financial services sector.
Yannis Batsakoutsas is the Senior Learning Advisor for Citi's International Franchise Management (IFM).  IFM is the Corporate Center function responsible for the oversight, governance, and strategic direction of Citi in over 160 Presence and Non-Presence countries. Until recently, Yannis was the Head of L&D for Citi's Institutional Client Group across EMEA. Prior to this, he was the EMEA Head of Graduate Development and a Learning Advisor for Global Markets. Until 2004, Yannis was a Senior Trader in the Fixed Income division of the firm. He has held various positions in Germany, Spain and Greece. Yannis first joined Citibank in 1995 in Athens, Greece as an FX trader.
Yannis holds a BSc in Banking & Finance from the University of Piraeus, the International MBA degree from the Athens University of Economics and Business and an MSc in Management and Business Studies Research from Kingston Business School.
He is the Chairman of a Local Advisory Group as part of the Career Ready programme, a charity working to improve employability for secondary school students in the UK. He is based in London but you can often see him in Athens and Madrid which he also calls home(s). With his wife Cristina, they have one daughter Sofia who is teaching him all he needs on creativity and innovation.
The lecture will take place Friday, April 1st, at 18:00, at Evelpidon building (room 802).
To register, please send an e-mail at itranou@aueb.gr .