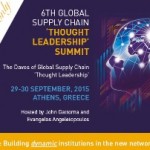 i-MBA is academic partner of the 2015 Global Supply Chain 'Thought Leadership' Summit which will take place in Athens, 29-30 September, 2015. The primary venue is the Megaron Athens International Conference Centre.
The Global Supply Chain "Thought Leadership" Summit is a genuine forum for thought leadership and discovery, gathering the 'best-of-the-best' businesses minds of the sector. Attendance is strictly limited in number, and open to invited executives only. This is a not-for-profit forum for those passionate about developing the science of supply chain management.
The theme chosen for the 2015 Athens Summit is: "Building dynamic institutions in the new networked world". This theme fully acknowledges that the design and operation of contemporary supply chains play a major role in the performance of the enterprise. The Conference is structured around twelve panels, each focusing on a major topic of interest/concern to a wide business audience. To generate a high level of informed debate, the organizers have hand-picked the participants on each panel, aiming for a blend of conceptual capacity and practical experience. The learning generated during the twelve panel discussions, two special guest addresses, and other more informal conversations during the 2-days on-site will lead directly to elevated performance in the enterprises represented at the Summit.
The concept is the brainchild of Dr John Gattorna, acknowledged as one of the leading contemporary supply chain 'thought leaders'. This Summit will be co-hosted by Evangelos Angeletopoulos, Founder of the Value Network Management Forum (VNMF), and Managing Director of a major Greek management consulting Firm.
Apart from the MBA International program, the event is supported by UTS Business School in Sydney (academic partner, which will host the next event in 2017) and three professional associations: the Institute of Supply Chain Management, India; the Hellenic Management Association; and the Hellenic Institute of Production and Operations Management.
Moreover, apart from the conversations generated in two intense days of interaction, among some of the finest thinkers in business and academia, Dr John Gattorna will be launching his latest 'thought leadership' piece in the form of a new book. All attendees will be given a signed complimentary copy for their use and enjoyment. The book will be officially launched on September 29, at Zappeion in an event coordinated by the Director of MBA International, Professor George Ioannou.
For further information, please visit the website of the conference at http://www.2015gscs.com/ .