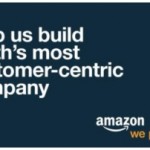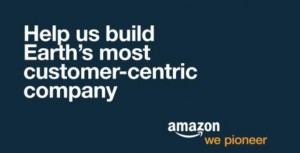 i-MBA is pleased to announce the organization of an Amazon Day on Wednesday, December 13th at 17:00-17:45 for the Full Time class and at 18:00-18:45 for the Part Time class.
Amazon strives to hire the brightest minds from universities around the globe, and have various career opportunities available for undergraduates and advanced degree students – Masters, MBA's, PhD's- with diverse academic backgrounds. If you want to work in an environment that will challenge you to relentlessly, improve the Amazon experience for customers, where each day is different from the next, and learning never truly ends, now i- MBA offers you the chance.
During the event you will have the opportunity to learn about the company's culture and career opportunities, hear about the application process and pose questions to the Amazon Ambassador and i-MBA student, Ms Paliarouta Despoina. Those of you apply to the job opportunities of your interest will receive a referral.
A few words about the company
Amazon strives to be Earth's most customer-centric company where people can find and discover virtually anything they want to buy online. By giving customers more of what they want – low prices, vast selection, and convenience – Amazon continues to grow and evolve as a world-class e-commerce platform.
Founded by Jeff Bezos, the Amazon.com website started in 1995 as a place to buy books because of the unique customer experience the Web could offer book lovers. Bezos believed that only the Internet could offer customers the convenience of browsing a selection of millions of book titles in a single sitting. During the first 30 days of business, Amazon fulfilled orders for customers in 50 states and 45 countries – all shipped from his Seattle-area garage.
Amazon's evolution from Web site to e-commerce partner to development platform is driven by the spirit of innovation that is part of the company's DNA. The world's brightest technology minds come to Amazon.com to research and develop technology that improves the lives of shoppers and sellers around the world.