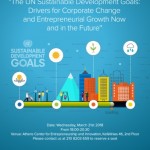 Sustainability Workshop 2018, focusing on the theme: "The UN Sustainable Development Goals: Drivers for Corporate Change and Entrepreneurial Growth Now and in the Future". The workshop is part of the joint i-MBA – CSE "Partnership for Sustainability Education" action under the United Nations Sustainable Development Goals initiative #SDGAction23013.
The event will take place on Wednesday 21st March 2018, 18:00-20:30, at Athens Centre for Entrepreneurship and Innovation- ACEin (46 Kefallinias Street, 2nd floor).
Speakers:
Nancy Christopoulou, Corporate Communication and CSR Responsible, Product Manager, IASO Group
Pinelopi Pagoni, Director of Health, Safety, Environment and Sustainable Development, ELPE
Kostas Tsolakis, Director of Corporate Communication & PR, ANTENNA Group
Jai Mexis, Founder, NGO Odyssea
Associate Professor Eric Soderquist, Director, MBA International Program (AUEB)
Nikos Avlonas, President of Center for Sustainability & Excellence, Visiting Professor on Sustainability, MBA International (AUEB)
During the event, distinctions will be awarded to the winners- students and alumni of the MBA International- of the 1st Student Competition on "Ideas for Sustainable Startups" and the  company-oriented initiative "SDG Champions", related to managers' commitment to SDG implementation will also be presented.
For more information please contact Ms. Afroditi Kompoliti at 210 8203659.
To register, please send an e-mail to imba@aueb.gr