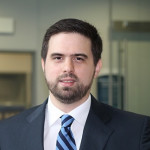 On Tuesday, 9th of July 2019 at 18:00 Dr. Dimitrios Arvanitis will share a very interesting presentation about Blockchain in the Energy sector with the i-MBA students and alumni. The presentation will be conducted in the context of the "Energy and Economics Management" course which is taught by Visiting Professor Stella Tsani and Professor Phoebe Koundouri.
Dr. Dimitrios Arvanitis was awarded an LL.B by the Law School of the National University of Athens. He continued his postgraduate studies at City, University of London, obtaining an LLM in International Energy Law with a focus on offshore oil and gas safety regulation. His Ph.D. thesis, also awarded by the City Law School, focused on the commercial aspects of oil and gas contracts and specifically on contract management and collaboration between operators and contractors in the context of the new UK offshore Strategy.
Dr. Arvanitis is a qualified lawyer enrolled with the Athens Bar Association. He worked for 2 years in the legal department of Public Power Corporation SA and he is currently a Legal Counsel at Hellenic Hydrocarbon Resources Management SA.
Dimitrios is a Legal Advisor of ELONtech and Head of the Athens Branch of the Greek Energy Forum.