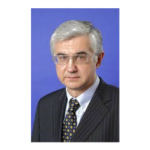 Dr. Sergey P. Sementsov, managing director in the Strategic Analyses Department of Vnesheconombank, the Russian Government financial development institution, will give a presentation on "The current economic and political situation in Russia and the Russian perception of its problems with the West".
Sergey Sementsov has been a business manager for many years. He has also been teaching and consulting in the top international audit and consulting companies.
After graduating from Moscow State University and getting his PhD there, he began his career at the Academy of National Economy under USSR Council of Ministers (ANE) – the top business school in the country. After graduating from the Advanced Management Program at Harvard Business School in 1990, he established the first Executive MBA program at ANE.
In 1994 he became Director of one of the first World Bank projects in Russia – Management and Finance Training Project. Within the framework of this project he established the National Training Foundation which ignited the process of establishing  a modern system of business education in Russia.
After completing the project, he joined KPMG Russia. As Head of Markets of KPMG CIS he contributed to the fabulous growth of KPMG in Russia and CIS from $ 35M in 2001 to $150M in 2007. His responsibility was to work out market strategy for the Firm in different sectors of the economy. He executed projects with clients such as Bazovy Element, Yukos, TNK-BP, RAO UES, Tatneft, Gazprom, Ural Steel, etc. He developed the Go Public KPMG product, and was head of the KPMG Russia IPO Group.
In 2008 he moved to industry. He occupied a position of Strategic planning department director in State Corporation Rosatom, which consolidated the nuclear industry of Russia. Two years later he moved to the private sector – joined stock company Bashneft, number 5 oil company in Russia, in a similar position. He worked through transforming Bashneft from a set of independent refineries and oil fields into a modern vertically integrated business with market cap of more than $10 bln.
In 2012 he joined Vnesheconombank, which is the Russian Government financial development institution. Sergey is managing director in the Strategic Analyses Department.
He is also Member of the Board of Directors of several medium-size Russian companies and Chairman of the Board of OPIAC, an independent directors' association. He is a regular speaker at conferences and delivers lectures in Moscow and international business schools.
His presentation to i-MBA students will take place on Friday, December 19th, 2014, at 18.00 (29 Evelpidon Str., 4th floor).
To register, please send an e-mail at imba@aueb.gr .