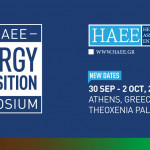 The Energy Transition Symposium, organized by the Hellenic Association for Energy Economics, focuses on challenging energy, economic and environmental issues and aims at providing an international forum for the exchange of ideas, research results, and experiences among experts and professionals engaged in academic, business, government, national and international organizations.
Europe has set ambitious targets to increase energy efficiency, reduce greenhouse gas emissions, and raise the share of renewable energy. Nonetheless, the scenery of South-Eastern European region with multiple changing geopolitical and social conditions, poses serious questions, challenges and opportunities for countries, industries, professionals, and academics. The Symposium will focus on these concerns and it will also provide a close overview of the raised opportunities in the energy sector.
The symposium anticipates to host more than 30 scientific paper presentations, and about 100 plenary speakers, where CEOs, Presidents of leading energy firms, Directors of key European and International institutions, and policy makers and political leaders from Greece and abroad, will present and debate their views.
In view of the ongoing government measures and to prevent further spread of the pandemic, the upcoming 5th Energy Transition Symposium will be held from 30 September to 2 October 2020 at Theoxenia Palace Hotel in Kifissia with the exclusive physical presence only of the panel speakers. However, registrations to watch the Symposium online are open.
You can register here , and the link for the online platform will soon be announced.