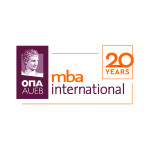 This academic year marks an important milestone for the MBA International since we celebrate the 20th anniversary of the Program's first class of graduates, who proudly took their oath in 2000.
Over the past two decades, MBA International has welcomed over 2.000 talented, diverse and visionary individuals from Greece and internationally (30 Nationalities), who have been educated and trained by more than 80 professors and business executives, and now occupy key positions within leading organizations in Greece and globally. Furthermore, throughout these 20 years, the program has achieved many and brilliant accomplishments due to the vision and contribution of the Program's leadership, faculty, staff and sponsors, and the great trust of our students, alumni and all recruiters in the market.
Thus, we invite all our supporters, faculty, students and alumni to commemorate this important milestone next Tuesday, 21/1/2020.
The communication sponsors of the event are epixeiro.gr, Global Sustain, kariera.gr,  skywalker.gr και ΣΤΕΝΤΟΡΑΣ.