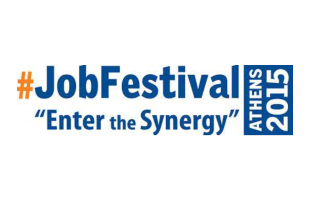 i-MBA supports Athens Job Festival 2015 – Enter the Synergy, organized by Skywalker.gr, on September 26-27, 2015. Athens Job Festival 2015 is an event dedicated to job hunting, education, entrepreneurship and volunteerism. Its objective is to provide an opportunity to job seekers for personal and professional growth through interaction with top corporate organizations, workshops, panel discussions and seminars.
Ms Ioanna Tranou, Career Office Manager at the MBA International program, will host a workshop on "Useful Tools for a Successful Interview", on Saturday, 26th September, 2015 (13.00-14.00). i-MBA will also be present with a booth throughout the event, so prospective candidates are welcomed to visit us and find out more about the program.
The Festival will take place at Michael Cacoyannis Foundation (206, Piraeus Str., 17778 Tavros, Athens), on September 26-27, 10.00-19.00, and participation is free of charge.
The full program of the Festival is available here.
For further information, please visit the Festival's website at http://jobfestival.gr/.