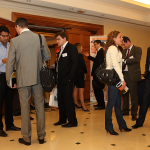 If you are currently designing the next steps of your career as an entrepreneur or executive in the global business ecosystem, we invite you to participate to the Open Day Presentation of the MBA International Program on May 6th, 2015.
During the event you will have the opportunity to hear about the main components of the program and find out how our top MBA will impact your career.
The presentation will be conducted by the program Director, Professor George Ioannou. Apart from the basic info, the presentation will cover other initiatives on innovation, entrepreneurship, energy management etc., that have been recently incorporated to the program.
Participants will have the chance to interact with faculty members, students, alumni and other executives of the program, on a wide variety of issues, such as curriculum, networking opportunities, career prospects, financial aid and application process.
The presentation of the MBA International Program will take place on Wednesday, 6th of May 2015, at 18:00 pm, at the Post Graduate Building of AUEB (47a Evelpidon Str. & 33 Lefkados Str., 8th floor, room 802).
For more information, please contact us at 210 8203659 and 210 8203677 or via e-mail at imba@aueb.gr.
Register here