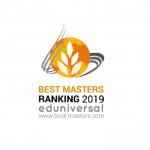 Each year Eduniversal, a global ranking and rating agency specializing in higher education, publishes its official Ranking of the best Masters and MBA Programs in 50 fields of study worldwide. Eduniversal identifies and promotes academic strengths across a range of institutions.
Thanks to the Eduniversal Best Masters & MBAs survey, current graduating students from each program have the possibility to share their satisfaction about the program that they're enrolled in. Their participation is an important part of the ranking and allows Eduniversal to further improve the legitimacy of the evaluation. Simultaneously, the Eduniversal Best Masters & MBAs survey values the expertise and knowledge of recruiters.
As a result, Eduniversal classifies and highlights Masters and MBA programs that prepare and graduate the most competent students into the global workforce and provides prospective students and companies important information for the quality of a school, but also for a specific program and its graduates.
This year, the MBA International climbed higher (compared to 2018), reaching the 14th position in the field of International Management for Western Europe. Moreover, in the new category of Part Time MBA Programs, the i-MBA was ranked in the 10th place globally!