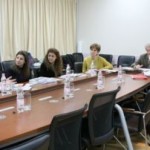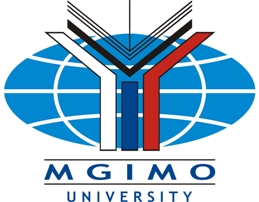 On 10 October 2016, i-MBA representatives visited the Moscow State Institute of  International Relations (MGIMO University) to discuss a wide range of opportunities and directions for future collaboration.
The meeting took place in a friendly atmosphere and both parties confirmed their interest to initiate cooperation in the spheres of joint Master Programs, Summer Schools, students exchanges, etc.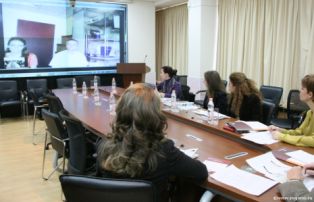 MGIMO is Russia's most prestigious educational institution in International Affairs. It's diverse student body of 6,000 is drawn from the top ranks of Russian students and from partner universities around the world. It offers a broad range of courses at undergraduate and graduate levels — from international affairs, political science, economics, and international law, to journalism, business management, and energy policy.
MGIMO enjoys an outstanding reputation and academic status, and consistently ranks highly in university ratings. Its research is extended globally through collaborations with leading research institutes in Russia, CIS countries, and around the world. Under the umbrella of the Russian Ministry of Foreign Affairs, it is considered to be an esteemed policy think-tank and forum for debate and analysis of international developments and current affairs, with its contributions to global analysis highly sought after.
MGIMO graduates include presidents, prime ministers, and foreign ministers of Azerbaijan, Armenia, Belarus, Bulgaria, Kazakhstan, Mongolia, Slovakia, Ukraine and other countries.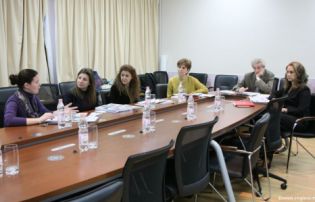 On behalf of MGIMO, the representatives that joined the meeting were: Mr. Eugene Glazov, Deputy Head of the School of Business and International Proficiency; Ms Viktoria Pshenichnikova, Deputy  Director, MGIMO International Office; Ms Maria Apanovich, Head Office of International and Double Degree programs and Deputy Head of Master's Training Office;  Ms Elena Ponomareva, Academic Supervisor of the MBA Program 'Management in Sports'; Mr. Vasily Tkachev, Academic Supervisor of the MBA Program 'Financial Director'; and Ms Olga Fomina, International cooperation and MBA programs coordinator.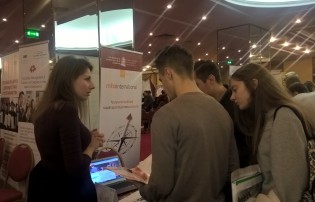 The representatives of the i-MBA side were Ms Lila Despotidou and Ms Metaxenia Konstantinidou, while the i-MBA Director, Professor George Ioannou, the Head of Academic Affairs, Asc. Professor Eric Soderquist, and Ms Sabina Shakhverdieva attended the meeting via skype.
During their visit in Russia, the i-MBA representatives also participated in two educational fairs that took place in Moscow and St. Petersburg, where they had the opportunity to meet and discuss with Russian candidates interested in the program.
Moreover, they visited PwC Russia, where they had the opportunity to present the career services offered by the program and discussed potential collaboration in the frame of graduates' recruitment, FSP projects, internships/training programs, visiting lectures and presentations, etc.