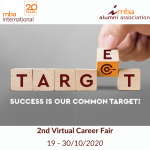 Following the success of the 1st Virtual Career Fair of the Program, which took place in June 2020, the Program organizes its 2nd Career Fair of this year during the 19th and 30th of October 2020.
The Career Office of the Program, along with the support of the i-MBA Alumni Association, has organized a two-week Virtual Career Fair where Greek and multinational companies will interview students and alumni of the Program.
The participating companies are : AB Vassilopoulos Single Member S.A., Alpha Bank, Dixons South-East Europe AEVE, FAMAR AVE, Henkel Hellas, ICAP People Solutions, ERGO Insurance, Johnson & Johnson Hellas Commercial and Industrial S.A., KPMG, Lidl Hellas & SIA Ο.Ε., Mondelēz  International, PepsiCo S.A.