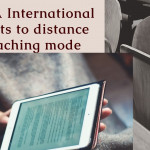 With respect to the recent developments about COVID-19 and in line with the measures taken by the Government and the University since last week, the MBA International has already proceeded to suspension of all classroom teaching activity, for precautionary reasons.
Course delivery
This week the MBA International Program has decided to shift its academic activity into a distance teaching mode, until further instructions are given, and so as not to extend and overload the remainder of the academic year. Following the significant organizational effort and the strong commitment of our teaching, administrative and technical staff, all the courses since Monday 16/3/20 have been delivered online. Efforts are being made to leverage our technology and advance the online platforms we use so as to ensure the best delivery of courses in the distance teaching mode. We thank everyone for their patience in these difficult times.
Admissions
Following the Program's commitment to help control the global spread of Covid-19 and to ensure the maximum safety of the prospective candidates, the MBA International has decided to conduct all of its admission interviews for the upcoming academic year on-line, until further notice.
Events
All the planned events, such as the Graduation Ceremony and the Career Fair of the Program, have been temporarily postponed until further guidelines are given by the University and always taking into account the health and well-being of our partners and community.
Operation of the Program
All administrative services are provided remotely, via phone and email so as to ensure the continuation of the Program's activities.
The situation we are facing has undoubtedly affected our lives in many ways. Patience and responsible actions from everyone, at individual and collective level, are necessary.
We wish everyone to be well, stay safe and hope that this situation will soon be over and everything will return back to normal.