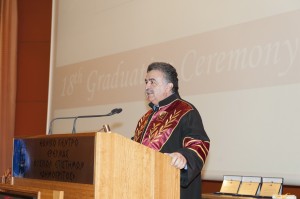 On December 16th, 2017 more than 300 guests attended the graduation ceremony of 100 i-MBAers at NCSR DEMOKRITOS' auditorium.
In line with the festive atmosphere, the Rector of AUEB, Professor Emmanouil Giakoumakis, greeted the graduating Full Time class 2015-2016 and Part Time class 2014-2016, focusing on the importance of the values that the graduates have to share in society, and extended his best wishes for their future success.
The Director of the Program, Professor George Ioannou, emphasized the challenges that the new graduates have to overcome in the current economic and social situation and encouraged them to grasp opportunities and innovate, by using the skills they gained throughout the challenging program of studies they successfully completed.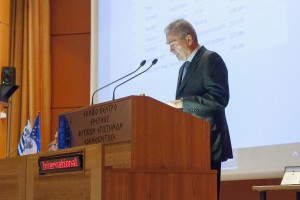 The audience also had the chance to attend the inspiring speech of the keynote speaker, Mr. Ioannis Spanoudakis, Board Member of stoiximan.gr.  Mr. Ioannis Spanoudakis focused on the dilemma of working in Greece or abroad. No matter the place, Mr. Spanoudakis advised the students to always concentrate on creating competitive advantages which will in turn result in added value. This is the key, he explained, for any company to survive and to constantly develop in any market. In addition, he mentioned the astonishing development of Technology and Intellectual Capital on changing the business world and motivated the new graduates to find and focus on the new market trends.
The General Secretary of the Alumni Association, Mr. Panagiotis Mitsios, welcomed the graduates to the alumni community, presented the goals of the Association and indicated the importance of networking.
During the ceremony, the Director of the Program awarded the Richard Wright Memorial Award, on student excellent performance, to Ms Zafeiria Kallinikou from the Part Time Program and Ms Jelena Sukovic from the Full Time Program. Last but not least, the Director awarded the Teaching Excellence Awards for the academic year 2015-2016, for their outstanding teaching performance, to Professor Christos Giannikos for the "Financial Management" course, to The Boston Consulting Group for the "International Business" course and to Dr. Ioanna Kinti for the course "Knowledge Management".