On the 8th of February 2019 more than 300 guests attended the 20th graduation ceremony of the MBA International at the events venue of the Athens University of Economics and Business.
Professor George Siomkos, Dean of the School of Business, opened the ceremony and wished graduates all the best for their future professional and personal future, focusing on the importance of the values the graduates have to impart to society. The Director of the Program, Associate Professor Klas Eric Soderquist, emphasized the challenges that the new graduates have to overcome in the current economic and social situation and encouraged them to grasp opportunities and innovate, by using the knowledge and skills they gained throughout the program.
The gue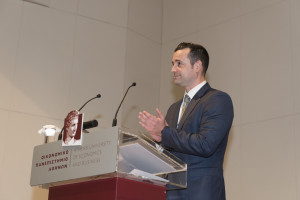 st speaker of the ceremony was Mr. Serafeim Karaiskos, Director of Executive Search & Selection at ICAP People Solutions. Mr Karaiskos, as a graduate of the Program himself, shared his personal experience as a candidate, a student and now an alumni. Identifying the challenges, the personal and professional sacrifices an i-MBA student has to make, Mr. Karaiskos gave an inspiring speech to the audience and spoke to the heart of all the graduates.
Ms. Athina Pitta, President of the i-MBA Alumni Association, presented the goals and actions of the Alumni Association and invited all the graduates to be members of this active professional network.
The ceremony continued with the awards of excellence for students and faculty. The Director of the Program, Asc. Professor Klas Eric Soderquist, invited Mr. Konstantos Konstantinos from the Part Time Program and Ms. Sili Nefeli from the Full Time Program on stage to reward them for their academic excellence. The Program also commended Prof. George Doukidis, Prof. George Siomkos and Prof. Minas Kastanakis for their excellent Teaching at the courses  of Entrepreneurship and Business Development, Consumer Behavior and Marketing Management respectively.
The ceremony ended with the students receiving their diploma, taking photos with their classmates, family and friends and enjoying the cocktail outside the venue!