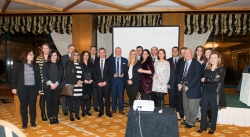 On Wednesday 15th March, was successfully conducted the Annual Sustainability Summit 2017, which was jointly organized by the i-MBA and CSE at Royal Olympic Hotel. In the event, which was focusing on the theme "Sustainability: The New Business Enabler", participated distinguished speakers such as Shivani Rajpal, Deputy Director Services of GRI (Global Reporting Initiative), Dimitrios Gkatsonis, CEO Aegean Motorway, Olga Manou, Head of CSR, Loulis Mills, Nektaria Mitrakou, Senior Public Affairs & Corporate Reputation Manager Coca–Cola Hellas, Vasilis Karakousis, Environment & Sustainability Manager, TEMES S.A and Associate Professor Eric Klas Soderquist, Academic Director, MBA International Program (AUEB). The Summit's coordinator was Nikos Avlonas, Founder and President, Centre for Sustainability and Excellence (CSE), Visiting Professor on Sustainability, MBA International (AUEB). Among the participants were many business executives, professors and postgraduate students.
The presentations were aiming in describing the new trends and the importance of strategy in Corporate Responsibility, for the company, the society and the environment, even during a difficult economic period. Also, there were presented good practices and international trends, while important issues related to Corporate Responsibility were discussed.
During the event there were distributed distinctions to companies, people, MBA International students and alumni that took significant initiatives on Corporate Social Responsibility during 2016. The distinctions were given to Pfizer, Cooperation with the Team Aigaiou and the AIGEAS Program for the East Aegean Islands, Attikes Diadromes S.A., Awareness in road safety, OPAP S.A., Responsible Gaming, EFG Eurobank Ergasias, Great Moment for Education , WIND Hellas, 4G Network in Anafi, CHITOS S.A, Support the work of ELEPAP, Public, Support of ELIZA project against child abuse, LAMDA Development S.A, Offering the venues of the company for organizing actions to Associations and NGO's over the time, Sofia Emmanouil, Media coverage in topics of Corporate Sustainability over time.