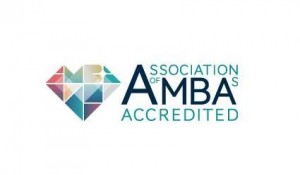 In today's highly competitive and technology-driven society, obtaining a Master's degree is becoming a must. Increasingly, however, student candidates and employers alike are seeking more than just a Master's diploma. They are looking for the highest educational standards and quality, which only an accreditation from an internationally recognized body can ensure. Accreditation adds great value and strong competitive advantage for any Master's program and any institution delivering it. In the particular case of an MBA, which is a professional degree awarded to students that enter not only with excellent academic results from their undergraduate studies, but also with a relevant working experience to build their MBA qualification on, accreditation is a necessity in order to maximize competitiveness of the graduates. Taking into account all of the above, the MBA International Program has been accredited by the Association of MBAs (AMBA) since 2005.
Founded in 1967, AMBA is an international impartial organization which accredits MBA, DBA and MBM programs globally against comprehensive and clearly defined criteria, taking into account the input from a number of stakeholders, including school faculty and staff, students, graduates and key employers. Accreditation guarantees that the highest standards of program design, teaching, market integration and student interaction are met. It's worth mentioning that AMBA accredits only the top 2% of business schools in over 50 countries globally. All these programs are subject to a systematic review at least every three years, so as to ensure that quality is maintained and continuously improved. Given the fact that the MBA International Program holds the accreditation since 2005, and has been re-accredited 3 times so far, it is undoubted that the Program is among the leading MBA Programs not only in Greece but also globally.
Re-accreditation is a cost- and time-intensive process which requires a strong commitment of all the Program's stakeholders and its resource base. However, it is also an excellent opportunity to perform an in-depth analysis of the Program's strengths –in order to maintain and further reinforce them- and its areas for improvement –in order to reach even higher levels of performance and satisfaction of its students, employers, graduates and other stakeholders. During the recent re-accreditation the MBA International leadership, faculty, staff, students, alumni and recruiters welcomed a panel of four accessors at its premises for a duration of two days. A series of criteria, such as financial viability, a strong and powerful mission and identity, excellent faculty with balanced expertise in teaching, research and consultancy, student quality, cohort size and diversity, career services, infrastructure, and many others, were thoroughly examined.
The process was successfully completed and resulted in AMBA awarding the continued accreditation of the MBA International Program for three more years. Our strategic priorities for this period include continuous improvement of the course offering and its quality, and increasing internationalization, both in terms of the study program itself and in terms of the MBA International's recruitment base.
We like to warmly thank all stakeholders, internal and external to the program and the university, for their longstanding and substantial contribution and commitment to the MBA International Program. We look forward to continuing the journey of excellence together.