Dimitris Sarantopoulos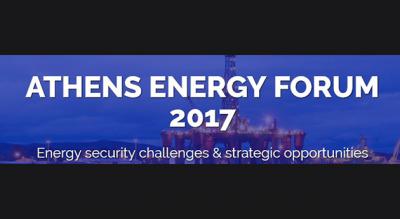 , i-MBA alumnus, and Founder & President of the AUEB Energy & Sustainability Club, was a speaker at the Athens Energy Forum 2017 which took place on Wednesday and Thursday, February 1-2, 2017 at the Athens Hilton Hotel in Greece.
The Athens Energy Forum 2017 was the fifth energy event co-hosted by the New York Times in Athens and focused on the theme 'Energy Security Challenges & Strategic Opportunities'.
The event brought together international policy makers and business leaders for a discussion on the unexpected discovery of the super-giant Zohr gas field in the Egyptian Exclusive Economic Zone (EEZ) and how it has re-galvanized the interest of the international oil and gas industry. Also, energy efficiency and renewable energy sources were discussed. Important emphasis was also given to the restructuring of the Greek electricity and natural gas markets.
Mr. Sarantopoulos participated in a panel discussion on "The Domestic and Regional Gas Market Dynamics" on Thursday, February 2. Topics that were discussed in the panel included:
The "Odyssey" of DESFA's privatization
The investment dynamics in the Regional Retail Gas Networks
Regional infrastructure projects: moving from competition to cooperation
The strategic imperative of Small scale LNG
For further information on the Forum, please click here.