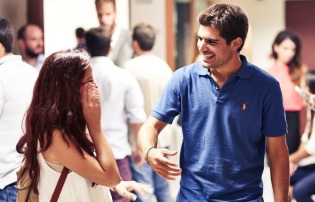 More than 75 candidates attended the i-MBA Open Day presentation, that took place on 3 May at the building of Post-Graduate Studies of AUEB. Participants had the opportunity to meet and discuss with the i-MBA Director, Professor George Ioannou, and the Head of Academic Affairs, Asc. Prof. Klas-Eric Soderquist, about the benefits of an MBA degree, about the academic program and other activities offered at i-MBA.
Moreover, participants heard from the Career Development Manager of the program, Ms Ioanna Tranou, about the career development opportunities offered to the students and alumni of the program, and met i-MBA alumni who talked about the student experience at AUEB and the advantages of being a member of the i-MBA Alumni Association.
Program executives were also present at the Master and MBA Info Day organized by eduguide.gr on 13 May, and at the Spoudase Educational Fair organized by spoudase.gr on 24-25 June. More than 200 participants visited the i-MBA booth and got informed of the academic schedule,  the admissions procedure, and other aspects of the program.