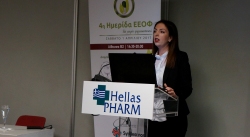 On Saturday 1st of April 2017, i-MBA student Ms. Eliza Skouteli, gave a presentation on the topic "Cost Accounting in Pharmacy", during the 4th EOFF Summit which took place in the frameworks of Hellas Pharm's annual pharmaceutical conference of the Panellinios Farmakeftikos Syllogos.
The topic of Ms. Skouteli's speech was innovative, since for the first time pharmacists were trained on proper procedures of costing in the laboratory by using cost accounting methods. Ms Skoutelis stated that her next step is to participate in a process of restructuring the current legislation on pharmacy laboratories, part of which is the costing of the products that are produced in the pharmacy laboratories.
Ms. Skouteli thanked Professor Dimitrios Ghicas for the great cooperation.
.