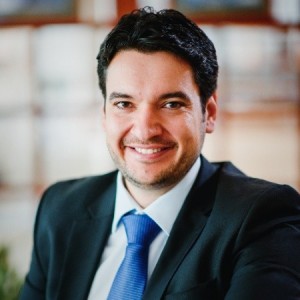 Mr. Ploutarchos Rigas, Industry Sector Lead in Education, Greece, Cyprus & Malta at Microsoft and i-MBA alumnus (2016 graduate), replies to the questions posed by Ms. Ioanna Tranou, Career Development Manager, MBA International Program, providing information about digital transformation and innovation.
Career- i-MBA
Can you briefly describe your role within Microsoft?
My team is accountable for driving the Education business through customers in Greece, Cyprus and Malta. In Microsoft, the Education Sector consists of Public and Private Education Institutions, Research Institutes, Libraries, Museums and NGOs.
What do you consider the most challenging aspect of your job as Industry Sector Lead in Education?
The most challenging part is the fact that we are dealing with three very diverse markets and customers of all magnitudes of both the public and the private sector.
What are the most valuable skills that you took from your education at MBA International and you feel is important to be successful in your current position?
I wouldn't put the word "skill" on it, but rather as growth of mindset, adaptability and lifelong learning. The great context of the courses taught on how international organizations work, the guest lecturers from abroad and the guest speakers from the market, gave a very important twist to the academic side of the i-MBA.
What are your top career tips for new graduates?
Dream Big, so that you can aim high.
Do not limit yourself, and ask for structured feedback from your co-workers.
What's your favorite quote or motto?
"I've learned that people will forget what you said, people will forget what you did, but people will never forget how you made them feel." Maya Angelou
Company-  Sector
How does Microsoft embrace innovation at its core?
Microsoft's vision is to "Empower every person and every organization in the world to achieve more".
According to that, we have a culture to support internal and external customers to be free to express their ideas and this is how great products are created. Gathering the insights from the end users, organizations and relevant communities, fuels the core of our product groups to be relevant and accommodate needs of a rapid developing environment.
Microsoft is considered to be one of the top key players in the digital transformation era. How do you measure ROI on digital transformation to drive growth?
There are always hard and soft KPIs. Digital Transformation is a journey and not a point in time. It is critical to understand the customer and partners needs to accommodate within their strategy. My main focus is to be considered as the DT Advisor for my portfolio and be the first point to contact. Growing customers and partners business is a success criterion as we grow together in a Global market.
How can data analytics improve the decision-making process?
Data analytics with machine learning and AI algorithms support our organization's decisions in a local and global scale. It is critical for organizations to be driven by their data and derive outcomes that shape their business. In a sense, moving towards predictive and prescriptive analytics will take more time and refinement of data but will enable major breakthroughs in many industries.