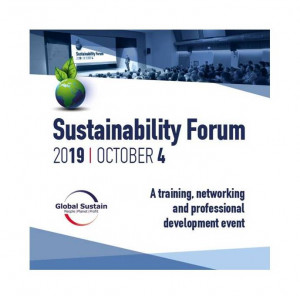 For the eighth consecutive year, Global Sustain organized the Sustainability Forum which took place on the 4th of October in Athens. As every year, internationally renowned speakers, sustainability experts and international organizations such as Unilever, GRI , ICW Consulting Group, The Conference Board, Social Value UK, Trilliym Asset Management, AECOM, AGC, EBRD and OTE Group of companies, participated at the event.  Through a range of sessions and panels, the speakers shared their knowledge and experience with the participants.
This year's Forum focused on the following topics:
-Unilever's Sustainable Living Plan
-Diversity, Inclusion, and Sustainability – Innovating for Better Worlds!
-The GRI Update: Aligning Reporting Frameworks and the Digital Transformation
-Sustainability in the Boardroom
-Social Return on Investment (SROI): Best practices and latest trends
-We need to talk: Driving Long-term Value Through the Investor Corporate Dialogue
-Update on the EU Sustainable Finance
-Sustainable Infrastructure and Climate Change Resilience
-Contributing to Sustainable Development to Help Ensure a Bright Future for our Planet
-Financing Sustainability with ESG Impact: The Role of European Bank for Reconstruction and Development (EBRD)
-Do Well & Do Good: is it possible?
The Sustainability Forum 2019 was addressed to all professionals involved with sustainability, such as Sustainability and CSR Managers, Human Resources Managers, Marketing and Corporate Affairs Managers, Communication and Public Relations specialists, Environmentalists, Environmental engineers, Quality specialists, IT engineers, Lawyers, Investors, NGO executives and students.