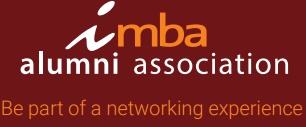 The i-MBAlumni Association was established in 2001 by the first graduates of the MBA International program to actively pursue the development of strong liaisons between fellow graduates, companies and the University.
The Alumni Association has set as its vision to create a sense of identity and unity to all past and future graduates. This is achieved through the maintenance of a link and an open channel of communication among the Alumni Association, the academic community, the professional market and the society as a whole. Aiming at enhancing a well-known "brand name" for the graduates of the program, the Association participates in a number of activities, such as:
Support of the Field Study Program: the Association members propose topics that their companies are interested in addressing through the FSP projects.
Organization of Alumni-on-Campus events, as well as of individual visits, in which representatives of the Alumni Association spend a day on campus, presenting their work environment and existing opportunities, and providing career tips and advice to i-MBA students.
Participation in the recruiting and selection phase of new cohorts: alumni representatives provide assistance to the program committee by conducting interviews of new applicants.
Organization of the "Back to School" Program, though which alumni of the program are able to attend elective courses that they didn't have the chance to attend during their studies.
Co-organisation of the MBA International's Career Fair.
Co-organisation of the Annual Energy & Sustainability Club Conference.
Co-operation with the iMBA Sailing Club.
Organization of regular gathering events.
Organization of the Christmas Ball – Graduation Party, and the Summer Party.
At the moment some additional ambitious projects are under development, including the development of a state of the art mobile application: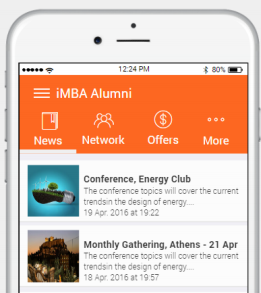 The i-MBAlumni Association has a flexible organizational structure and it is managed and coordinated by a Management Board which is elected by the General Assembly of the Association every year. The Management Board consists of 7 members (5 regular and 2 deputy members).
The Board runs under an open-door policy, leaving ample room for active participation and suggestions from all its members who are willing to participate, to provide assistance and to contribute to the Association's activities, committees, meetings and the organization of various events. All graduates and students can support our cause in practice by registering and becoming active members. The registration form is available in our website.
The next Board will be elected in March 2017 and elections will be held for the first time electronically using e-voting. We strongly encourage the participation of all active members of the Association. For further information, please stay tuned!