The Belbin Approach: A Behavioural View to Management Improvements – Building Trust and Belbin Team Roles, by Anastasia Marinopoulou, MBA, International Lean Change Management and Business Development Consultant and Trainer & Research Affiliate at HealthSec, MSL, AUEB, and Dr. Emmanuel Alexandrakis, Health Economy Global Strategist at WifOR Institute, Adjunct Professor, MBA International and Head of the HealthSec, MSL, AUEB
Markets are becoming less predictable, and increasingly changeable and complex. Decision-making by one person only is hence extremely risky, both for the decision maker and the stakeholders involved. The business environment has definitely changed and our times require adaptability, both of processes and people.
Additionally, in responding to market changes, organisations are pressed to engage into change management initiatives, often involving matrix structures, that increase the communications and administration complexity's level.
Could teamwork be a solution?
Teamwork is the answer when the perceived (and actual) risk is high and when the situation is complex, both regarding the market environment and the tasks at hand. One can easily think of a few examples where teamwork is more advantageous (instead of one person deciding or managing). Namely,
a change management committee (one person could not possibly design a change management initiative)
the R&D function (how can just one person contextualise and manage the process for new solutions for space travel?)
the sales function as it is changing with the mix of media and applications used, the online / physical location of customers, and the changing needs of customers requiring improved coordination and planning, assigning sales executives (even teams) as per the customer situation.
What exactly is teamwork?
Teamwork is the beneficial result produced by (team) members that know how to contribute to the purpose and the target agreed when things go well, and also when they do not; or in other words, they know how to work, how to coordinate, and how to behave in any situation, maximising the skills of all the team members, whilst guarding against the team's weaknesses.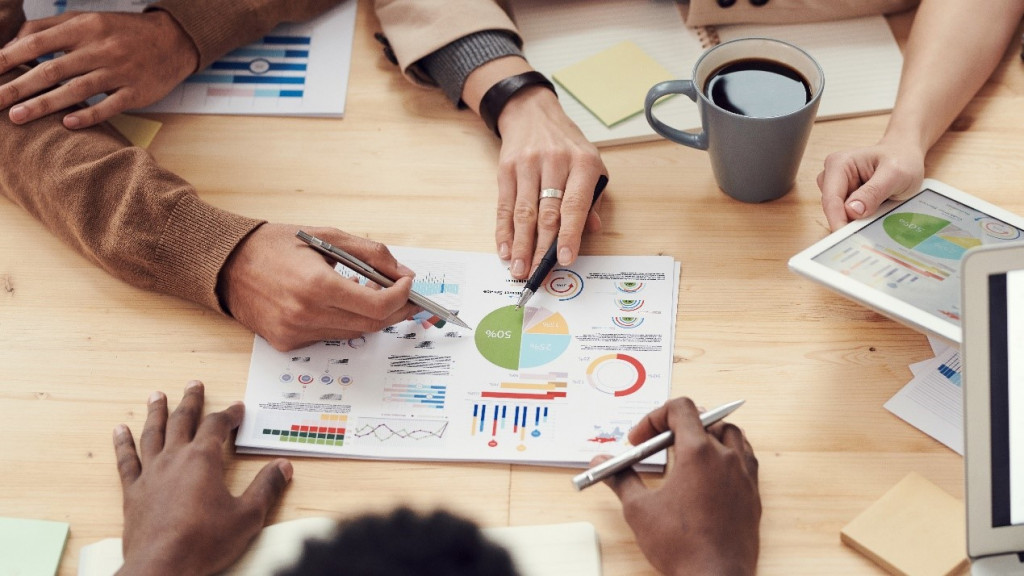 Figure 1: Teamwork is when people with different skills and behaviours align to understand and support each other to complete agreed targets successfully. This means a commitment to adaptation and improvement
Is Trust important in a team context?
"Trust is a multidimensional psychological construct that develops from frequent interaction, communication, and relationship history" (Dumitru, 2021).
According to Dumitru's explanation on what 'Trust' is, it can be deducted that team members and leaders form impressions of trustworthiness of others, act on these impressions and evaluate the latter based on the information they collect, in a unidirectional and perpetual process.
Achieving collaboration and teamwork is not possible without 'Trust'. Indeed, 'Trust' is important because without it, the sincere and binding social and work relationships amongst group members cannot be formed and the group does not evolve into a team.
What is the Belbin methodology and how does it help to build 'Trust'?
Dr. Belbin identified, after a decade of scientific research, nine clusters of positive skills and their associated behaviours, which he called 'Team Roles', coupled by an eye-opening discovery: each Team Role is connected to an allowable weakness, offering for the first time a relief for 'imperfection' and the understanding that none of us is fit for all roles.
The Belbin® theory with the 9 clusters of skills, behaviours and allowable weaknesses, enriched management theory with an additional explanation of why people perform better in different teams and organisations (role and team role fit) and provided a different perspective for 'individual performance' to be viewed through. People that belong to different team roles would show different performance levels according to the nature of the work they do, especially in the medium and long term.
If you look at the image that follows that summarises Belbin® Team Roles (with their strengths and weaknesses), we could understand:
that Trust is built when the strengths and weaknesses are communicated sincerely and no false assumptions about what we can do (in the short and long term) are presented to group members and,
that for the majority of us working in different roles (for example offering ideas, completing routine administration tasks, etc.) which are not among our strengths, it is not that we cannot fulfil them, but rather that we cannot sustain high productivity over the long term. Our productivity will fluctuate, depleting our energy and eroding our strengths.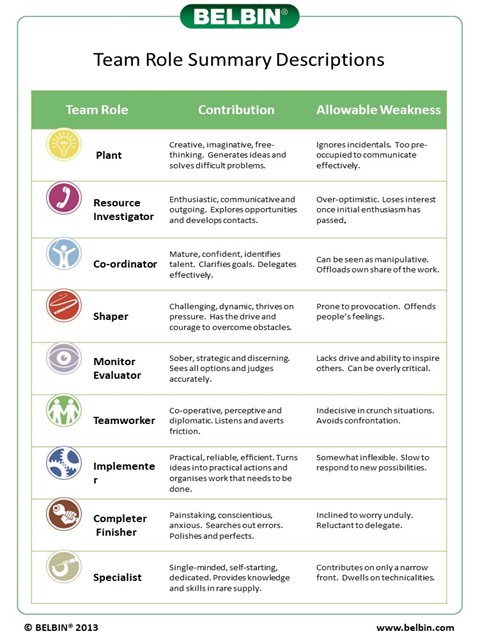 Figure 2: The Belbin Team Roles with strengths and Allowable Weaknesses
We can all innovate but someone in the 'Plant' cluster would like to approach things from a different angle, almost all the time at the expense of routine tasks, whilst someone in the 'Implementer' cluster would suggest new ways towards a better way of organising things. However, both could be chosen for a sales position for example, but they would view the sales process, the clients, and potential targets differently.
Why is the Belbin methodology reliable?
The Belbin methodology offers the insights it promises with great reliability. The Belbin Team Role profile generated through a 3600 process (combining the information from the ΄Self- Perception' and 'Observers' Questionnaire), provides insightful and actionable advice on personal and team development that is practical and to the point. It is used by hundreds of businesses worldwide with recorded positive results.
It is not a psychometric test like the majority of the tests available in the market or those that imitate the Belbin® methodology. A behavioural test investigates propensities towards certain kinds of behaviour and styles of interaction with others, rather than measuring personality traits.
Behaviour is regarded as more changeable than personality, since we can adapt our behaviour depending on what is required of us in a given situation or role. Behaviour is also observable. This means that it affects, and is affected by, those around us.
This makes the process of understanding and adapting our actions a democratic one: whilst we wouldn't ask others to tell us about our personalities, we often remark on one another's behaviour. Finally, behavioural tests can provide constructive feedback which directly informs the way an individual behaves in the workplace.
Personality is unlikely to change, so to dust off the cobwebs and get individuals and teams working more effectively, we need to focus on the point where changes can be made: our behaviour.
Moreover, Belbin consultants are carefully selected for their knowledge, experience, and ethos. They are trained to provide a balanced view (organisational and people-centred) on recruitment, work relationships, management development, change management, talent development and of course team building.
 Figure 3: Understanding what the observers decode and understand as contribution, is important for any training and coaching support.
Case Study 1 – GroupM
Help the Exco team in Malaysia to understand how to leverage their strengths to build a competitive advantage.
Employees: 28,000
Industry: Media & Advertising
Location: Malaysia
Collaboration with Aspire, he Consultancy that used the Belbin methodology.
GroupM is the world's largest advertising media company. It offers advertising media selection, services, including: media planning and buying, branded content, digital media, consumer research and internet marketing.
The Outcomes:
More effective, strengths-based collaboration within the Exco team,
Won a pitch for business with a large and influential client,
Won an internal APAC award celebrating group values and praised as a role model for regional Excos.
The Process:
The Exco team discovered that eight of the nine Team Roles were represented. The Shaper role was predominant, as 5 of the 14 team members had this as a strong role. The role of Completer – Finisher (CF) was found to be absent.
After their workshop, GroupM decided to recruit someone to fill the CF gap and Aspire, the consultancy, facilitated a further session for the team to help them integrate the new person and use their CF qualities to the best possible effect.
Shortly afterwards, GroupM was invited to pitch for a business proposal with a large and influential client, so it was decided to apply the Team Role learning in this context.
Aspire facilitated the team in mapping out the entire process of a typical client pitch regarding what was generally done before, during and after a pitch. Every task and activity were noted in detail. When the team had outlined the entire process, they analysed the tasks critically and discussed the following points:
Which of these tasks are essential?
Which of these tasks add real value to the client?
What are the 'pain points' for the client in choosing a new media agency?
How can we minimise the client's issues?
The team refined the pitch process by eliminating those tasks deemed not to be adding value. They also added elements which they felt would help to secure and retain the business by minimising the client's pain or annoyance factors.
Once the team had outlined a more customer-focused pitch process, Aspire asked them to analyse their own previous performance in the tasks that they had detailed. They discussed:
Which of these types of tasks do we generally do well?
Which of these tasks do we not do so well and what was the result of our failure?
Which Belbin Team Role would be most suited to each task?
Who in the team should take on which task?
The team was able to identify the tasks and activities that drew on their natural strengths, and for those that did not, therefore needed to be addressed with greater care. They also identified the best person to lead each task using their Belbin Team Role knowledge.
In particular, they considered how to make use of their newly recruited "Completer – Finisher" colleague, to ensure that everything was completed on time and that it was done at the highest standard.
Case study 2 – Sanofi China
Building high performing sales teams and Regional Sales Managers
Industry: HealthCare
60 sales teams participated
Location: China
Belbin China, he Consultancy that used the Belbin methodology
Sanofi is a French Innovative Pharma company with a focus on China and Emerging markets. China is Sanofi's second market globally and a market where Sanofi has invested in R&D collaborations.
The Outcomes:
Sanofi was able to identify patterns and discover the behavioural dynamics that make their teams tick,
Adaptable Regional sales managers that developed talent,
Stronger sales teams that achieve sales targets,
The result gained them a position in Training Magazines Top 125 Companies (January / February 2018).
The Process:
Belbin China collaborated with Sanofi to analyse the Team Role behaviours of Regional Sales Managers (RSMs) and their teams, using performance criteria to define success, and subsequently tailored its training and team composition knowledge to emphasise the cultural and behavioural characteristics needed, tailoring team construction and composition, training, and support.
The process included:
Belbin® Team Role profiling (with observers),
1-1 Belbin® Team Role profile explanation,
Team workshops,
Focused coaching and evaluation on individual and team level,
Frequent reviews / reflection on individual and team performance,
Support on behavioural change.
The company and the teams understood that team composition had a great impact on the results. By using data over a period of two years it was evident that teams:
Succeeded by 33% if 4 Team Roles were missing from the team,
Succeeded by 61% if 2 or 3 Team Roles were missing from the team,
Succeeded by 71% if 0 or 1 Team Role was missing from the team,
Regional Sales managers that exhibited a strong Team Role (scoring more than 80%) were likely to be more successful.
Some additional advice
Teams operate in a certain work context and skills environment. Organisations need to understand that teams need to be created and managed according to their stated purpose and the market environment. This means that different synthesis might be needed for different market environments. Equally, team members need to be trained to understand where each is best suited in a project. In a nutshell, team members need to understand and develop team leadership rotating skills.
Having said this, organisations, and especially the HR departments, need to map the demands of the job roles as they develop, to be able to support the teambuilding processes and team members training and coaching initiatives. The Belbin methodology includes a valuable exercise that allows HR teams and business managers to think through and map the job role dimensions that will add value and specifically indicate those that, if present, will reduce risks connected to the volatile business environments.
What about virtual teams?
Technology, International trade, and the realities of operations, stress the increased need for work-life balance and the recent challenges imposed by the COVID-19 pandemic. All these factors have given rise to hybrid collaboration and teamwork projects, and consequently the need to lead hybrid teams and groups more effectively.
Speaking with numbers, in the last five years the following facts have been recorded:
The growth of e-conference applications, with the market to be estimated at $13.8 billion in 2023 (Nasstar, 2023),
The increased interest of all countries for e-health solutions, with the EU focusing on telemonitoring and prevention along with teleconsultation, and expecting an annual growth of 14% of such services (Eurofound, 2018),
7 million people teleworked across the EU in 2021, double the number of 2019, as COVID-19 restrictions and changes in work culture significantly impacted work organisation (Eurofound, 2022),
Key e-conference issues reported: Unsure whether to interrupt someone speaking, echo distortion, tech issues, missing on facial / visual cues, finding it difficult to contribute to the conversation (Owl Labs, Vitreous World, 2021).
In virtual teams, the induction of team members and their coaching for effective teamwork needs more attention as the visual and emotional cues to build understanding and 'Trust' are limited.
In conclusion, the Belbin team role profiling can help managers offer suggestions and adopt new organizational approaches that can better address what to expect regarding team members' communications styles, especially in crisis situations, whilst at the same time, encourage the optimum management of weaknesses with practical and actionable advice on individual, team, and operational level.
Effective change management initiatives including behavioural change and changes in cultural and work climate dimensions can be designed, deployed, and sustained when the Belbin® methodology is included in the methods used.
References
Belbin R. Meredith, Brown Victoria (2023). Team Roles at Work, 3rd edition, Routledge – Taylor & Francis group .
Dumitru, C. (2021). Building Virtual Teams: Trust, Culture, and Remote Working (1st ed.). Routledge. https://doi.org/10.4324/9781003095781.
Khodyakov, D. (2007). Trust as a Process: A Three-Dimensional Approach. Sociology, 41(1), 115–132. https://doi.org/10.1177/0038038507072285.
Owl Labs, Vitreous World (2021). State of remote work in the US. Electronic Source https://owllabs.com/state-of-remote-work/202, [Accessed 06 April 2023].
Nasstar (No date). Virtual Meeting statistics. Electronic Source https://www.nasstar.com/hub/blog/virtual-meeting-statistics, [Accessed 06 April 2023].
Eurofound, 2023. Teleworking. Electronic Source https://www.eurofound.europa.eu/topic/teleworking, [Accessed 06 April 2023].