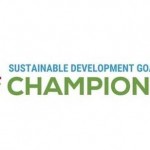 We invite you to become Sustainable Development Champions and make an impact in your organization!
For the first time in Greece, this unique initiative is launched by the Centre for Sustainability and Excellence (CSE) and the MBA International of the Athens University of Economics and Business as part of their UN Partnership (#SDGAction23013), with the aim to increase awareness and promote education of students, corporations and entrepreneurs on the Sustainable Development Goals – SDGs.
The initiative will be officially announced in the Annual Sustainability Workshop on March 21st 2018, a formal event taking place for the 3rd consecutive year by CSE and i-MBA. This year's event will be focusing on the theme "The UN Sustainable Development Goals as Drivers for Corporate Change and Entrepreneurial Growth Now and in the Future" and it will host top level executives as speakers to share their insights and experience with an audience comprising members of the business world and academia.
The Sustainable Development Champions campaign is addressed to CSR /PR Managers or other Directors in different divisions in organizations with a passion to make a positive impact in their organization and the world. They will receive a special recognition as Sustainable Development Champions for having designed and implemented an initiative linked directly with one or more of the SDG targets in their company in 2018, while this action will be announced in the 2019 Summit.
Implementation for interested managers will include the following steps: Register as a Sustainability Champion by attending the 2018 Workshop in March 21st, inform their company on SDGs and their value (information material will be provided) and roll out a campaign or activity in the company to support the selected SDG(s) until the end of 2018.