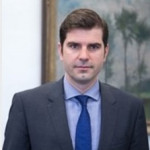 We are delighted to welcome Mr. Norbert Kurilla, State Secretary at the Ministry of Environment of the Slovak Republic, for a guest lecture On Tuesday, 11th of February 2020.
Mr. Kurilla started his career at the Ministry of Environment as EU Affairs Coordinator. He has served as the Director General of the Environmental Policy Directorate at the Ministry of Environment and is currently also a Management Board member of the European Environmental Agency, Vice-chair of the OECD Green Action Program and Supervisory Board member of the Slovak Investment Holding.
Mr. Kurilla holds a Master of Arts in International Economic Relations and a Ph.D. in International Relations from University of Economics in Bratislava.
The guest lecture will focus on the topic "Greener Slovakia, Transition to Green Economy" and it will be hosted by Prof. Stella Tsani at the course of Managerial Economics.