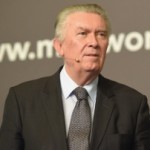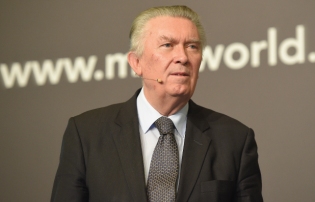 It's with great sadness that we announce the death last week of our Business Advisory Council (BAC) member, Sir Paul Judge, who passed away on 21st May 2017. Sir Paul was the President and longest serving Official in AMBA's history, beginning his relationship with the organization in 1970, all the way through to the present time.
Sir Paul was a passionate supporter not only of AMBA, but also Management Education worldwide. He has been President of AMBA since 1997 and has been pivotal in the Association's growth and development from its very early days. As President he has chaired AMBA's International Accreditation Advisory Board and the International Advisory Council.
Sir Paul Judge's career has spanned the commercial, public, political and non-profit sectors and taken him around the world. He has made his mark in the food industry, in politics and latterly as head of a successful investment trust. He was also a passionate advocate for education.
He gained his MBA from the Wharton Business School and was the key benefactor of the Judge Business School at the University of Cambridge. As a supporter and subsequently President of AMBA, Sir Paul was pivotal in its transformation from the British Graduates Association (BGA) into the worldwide, leading MBA accreditation body AMBA is today. He worked passionately and tirelessly to build strong and valuable relationships between Business Schools across the world, as well as acting as a champion and role model to AMBA's 27,000 MBA student and graduate members, in more than 150 countries.
In addition to his work as President of AMBA, Sir Paul's educational interests included being President of the Chartered Institute of Marketing, Chairman of the Enterprise Education Trust and of his own school, St Dunstan's College, and Deputy Chairman of the American Management Association. Other honorary positions include being an Alderman of the City of London and Chairman of the British-North America Committee and of the North American Advisory Council at Chatham House.
He was Chairman of Schroder Income Growth Fund and a director of ENRC, of the UK Accreditation Service, of Standard Bank Group of Johannesburg, of Abraaj Capital of Dubai and of Tempur-Pedic of Kentucky.
Sir Paul, who received his knighthood in 1996 in recognition of his public and political service, spent 13 years with Cadbury Schweppes and in 1985 led the £97 million buyout of their food companies to form Premier Brands, which was successfully sold in 1989.
Sir Paul then turned his attention to public and political life. He was appointed to the Milk Marketing Board and as chair of Food from Britain, set up by the government to promote British food exports. In 1992, he was voted Food Industry Personality of the Year. In the same year, he became Director General of the Conservative Party, overseeing a transformation of the party's organisation and a turnaround in its finances.
He has been a President of the Chartered Management Institute, Chairman of the Royal Society of Arts and of Teachers TV, Master of the Worshipful Company of Marketors and a member of the Higher Education Funding Council for England (HEFCE).
Sir Paul's final public appearance for AMBA was as host of the Association's 50th Anniversary Gala Dinner in London in late January, during which he looked back with pride on the history of the association he worked so hard to support and mould – but he also looked forward with optimism on the future of the MBA across the world.
His contribution to the development of the i-MBA program was invaluable. He served as a member of i-MBA's Business Advisory Council (BAC) since its establishment in 2008 and he was always willing to share his experience and valuable insights. His advice, counsel and support will be greatly missed.