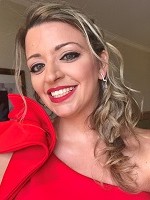 As Group Finance Manager for Europe Personal HealthCare in Procter & Gamble, Andriani is responsible for a +$200mil. business in >20 European markets. She is accountable for delivering the top and bottom line financial targets, via leading a direct team and working closely with her counterparts in the countries of her responsibility. She is member of the Regional Lead Team and assumes full P&L responsibilities, through long-term strategy setting, financial planning, budget management and actuals proofing.
With +8years of experience in the company, Andriani has previously worked on various areas like Competitive Intelligence in Baby Care, Innovation Financial Assessment for Health Care and Corporate Finance & Accounting in PGT Joint Venture, including books proofing, quarter closing and profit sharing activities.
Andriani holds a Bachelor in Electrical and Computer Engineering from National Technical University of Athens and an International MBA from Athens University of Economics and Business. She is bilingual in Greek and English and is conversational in French. She lives in Geneva, Switzerland and supports voluntarily the Greek Theater Team on their performances, in order to keep the Greek cultural spirit alive (and even stronger) abroad. In her free time, she chooses to invest on travelling around the world, taking photographs to capture any source of inspiration, while seeking for cultural experiences to expand her point of view.