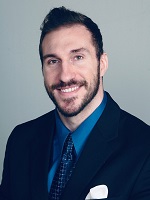 Vasilios (Billy) Dokouslis is a Client Finance Manager for FCB Health, a subsidiary of IPG in New York City, NY, USA. He is currently responsible for the overall management of a number of pharmaceutical portfolios and budgets while being tasked with the forecasting, staffing, asset allocation, and financial reporting of all of the accounts under his supervision.
Billy has been working in Finance and related fields since his graduation from Lehigh University in 2012 with his B.Sc in Management. Immediately after graduation, he assumed a management position working for Crayola in Pennsylvania and a year later, he left to take a 2nd-Level position working for Louis Vuitton in New Jersey.
With one foot in finance and one foot in operations for a number of years, Billy wanted to push his career even further, and decided to move to Greece to earn his MBA at AUEB. Just two short years later, after completing his MBA in Finance, he returned to the United States, and eventually settled on his current career at IPG.
Now residing in NYC, Billy has access to some of the best professional, leisure, and overall life-changing events and activities in the world. His career is his passion in life, however, and along with chess, bodybuilding, and athletics, is what he happily spends all of his time and energy on.