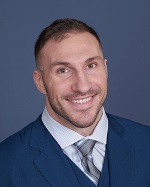 Vasilios Dokouslis is a Client Finance Manager for FCB Health, a subsidiary of IPG in New York City, NY, USA, where he also lives and resides. He is responsible for the account stewardship, asset allocation, and financial reporting of their pharmaceutical portfolio, as well as the management of a large team of financial associates.
Vasilios has been working in Finance and related fields since his graduation from Lehigh University in 2012. Following his graduation, he assumed positons working for The Crayola Company and for Louis Vuitton. After a number of years at both companies respectively, Vasilios decided to expand his horizons, and took the opportunity to move to Greece and earn his MBA at AUEB. Just two short years later, after completing his MBA in Finance, he returned to the United States, and began his current career at IPG.
Outside of his professional life, Vasilios has interests in various athletic activities, including mixed martial arts and bodybuilding. He also loves to travel internationally whenever he can, and is an avid chess enthusiast.