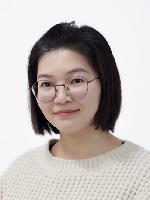 Changling Zheng is a Project Manager and Product Team Manager at TAL Education Group, China, focusing on distance learning software design and development. Her areas of expertise include product design and market promotion, contributing to interactive communication through real-time data analysis. She is also one of the members of the company's machine learning team, combining the technology outcomes with practice, and is responsible for visualizing the performance through behavior analysis during virtual learning. In her previous experience, she also worked for iFlytek as a User Experience Designer in the education department, and the service was embedded in various Chinese schools' multimedia teaching system.
During her studies in the MBA International in Greece, she was also working for the cultural and business communication between China and Greek as a journalist, reporting on investments, collaboration, and achievements of Chinese companies.
Changling holds a bachelor degree in Engineering from the Hefei University of Technology in China, and majors in Industrial Design. She speaks Chinese mandarin and English.
In her leisure time she enjoys photographing and playing the guitar.