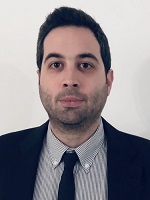 George Gousias is a Project Leader at GE Healthcare Bio-Sciences, Pasching, Austria, where he is responsible for leading large-scale CapEx projects and manufacturing process changes regarding the expected growth of the plant. His responsibilities include planning, coordination and leading projects and project teams for the pharmaceutical production, Basic Engineering for manufacturing equipment, planning of new production processes, coordination of equipment procurement, and supervision of supplier activities. George has more than 6 years of experience in international projects within different sectors.
George started with several internships, during his studies, at Hellenic Petroleum and DESFA. After his military service, when he was working at the laboratory of the Hellenic Air Force and at the quality control of aircraft fuels and oils, he started his international journey with the Netherlands, and more specifically The Hague. He was part of a program of The European Patent Office, as a Patent Examiner assistant, where he conducted several re-classification projects. At 2013, he arrived at Austria for FACC Operations GmbH, in the aerospace industry, where he worked as Project NDT Engineer-International Cooperation with projects locally as well as internationally (China, U.A.E.). His next experience was at Lenzing AG and at the chemical industry, where he worked as Project Manager for CapEx projects at the local plant, as well as Sub-Project Manager for the large-scale international Projects (>300M Eur). During this experience, George gained important insight in large-scale and complicated projects that needed intensive planning, coordination and controlling, within an international environment.
George holds a Diploma in Chemical Engineering from the University of Patras. He graduated also from the MBA International with honors at 2010. He also followed further specialized trainings in Project Management, NDT and IT field. Within the scope of continuous learning, George is currently studying at Johannes Kepler University of Linz, Austria the MSc. Management in Polymer Technologies with expected graduation within 2019.
George, except of Greek, speaks fluently English, German, and good French. His passion is continuous improvement, new skills and accomplishments, like a basic course of Chinese, new technologies, among others. He also enjoys volunteering work, when the free time allows it.