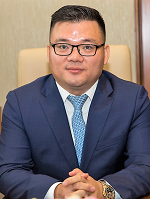 Mr. Jianbo Wang graduated from Fudan University with a bachelor's degree in physics, electronics and technology and Athens University of Economics and Business with an MBA degree. Mr. Wang was mainly engaged in the sales and marketing operations since he joined ZTE in 2004.
Mr. Wang was responsible for sales and marketing operations in Zhejiang province of China, Turkey, Bulgaria, North Macedonia and Slovenia from 2004 to 2013. He had been the CEO of ZTE Turkey from 2014 to 2017,  CEO of ZTE Southeast Europe, Cyprus and Israel since 2018 to 2023.
Mr. Wang has been appointed as CEO of ZTE France & Benelux since March 2023.
Mr. Wang has extensive experience in the telecommunications industry and market management.