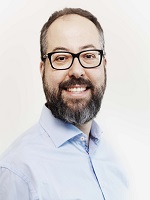 Konstantinos works as the IT Director at Bihr, the leading wholesale distributor in motorsports' parts and accessories in Europe. He is based in Gothenburg, Sweden and manages virtual teams in three regions (BeNeFraCh, Nordic, Iberia) with his main mission being to deploy the company's project portfolio.
Konstantinos comes with 20+ years of international experience in startup, high-growth and turnaround environments in various industries like automotive, oil & energy, retail, logistics. He has worked in senior roles at Ahold-Delhaize Group, BB Energy Group and Kuehne + Nagel and some of his achievements were the financial turnaround of Bihr Nordic in 2018, the business transformation and the establishment of a 3-year IT strategic roadmap and budget process for BB Energy Group in 2014 and the establishment of an IT Center of Excellence for Delhaize Group in 2012.
Prior to his I-MBA times at AUEB, he studied Computer Science at the Hellenic Open University. He is certified in project management from PMI (PMP), SAP and ITIL. He speaks fluent English and Greek, while he maintains a good level at Swedish and French.
On a volunteer basis, Konstantinos serves as the Director of Research for PMI Sweden Chapter (www.pmi-se.org). For the 3rd year in a row, he co-authored the "Swedish Project Review" along with KPMG, a barometer on the impact of project management in the Swedish market (https://bit.ly/2Y8V8Mc). In parallel, he is the president of the Greek Community in Kronoberg, Sweden (http://grkronoberg.se/), with his main goal being to support the integration of Greeks migrating in Sweden and at the same time to promote the Swedish culture in Greece. In his rather limited free moments, he enjoys precious time with his wife and dog.