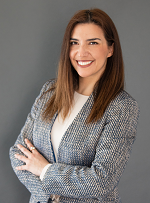 As Marketing Manager at Sotheby's International Realty Canada, Lambrini provides strategic and tactical marketing consulting services to over 320 independent realtors across Ontario, while delivering nationwide corporate marketing and communications initiatives. Prior to joining Sotheby's, Lambrini worked for Executive Yacht, Canada's leading yacht brokerage firm, successfully repositioning the company as Operations & Marketing Director. In her previous role, Lambrini delivered loyalty and engagement campaigns for the prestigious Toronto International Film Festival working closely with industry leaders to increase participation and opportunities for women in film.
Lambrini's first international position was Senior Marketing Consultant at Lifestyle Capital Partners (UK), a boutique management consulting firm catering to the ultra-luxury global markets. Before and during her MBA studies, Lambrini worked for nearly eight years at TEMES S.A/ Costa Navarino, working her way up to the position of Real Estate Marketing Manager — responsible for the brand development and promotion of Costa Navarino Residences, Greece's first branded residential project.
In addition to her MBA International, Lambrini holds a BA in Communications and Media. She also holds a BA in Dance, a discipline that she pursued professionally in New York City, Berlin, and Athens until 2010. Lambrini lives for quality time with family, friends and pets, quiet time on the yoga mat, good food & wine, and memorable travel experiences.