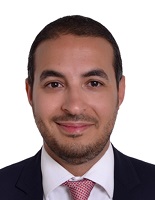 Mamdouh is a Commercial Account Manager at Royal Bank of Canada (RBC), one of the top 10 financial institutions in the world in term of market capitalization, he has 12 years+ of experience in Corporate & Commercial Banking, having previously worked for multiple reputable financial institutions in Egypt, Qatar, UAE and currently Canada.
Mamdouh started his career by working for a multinational shipping company, and after 5 years he obtained the required certification for his upcoming transition, and joined a reputable regional bank as a Credit Analyst where grew in position till he became a Corporate Relationship Manager, he was able to participate in many transactions where he secured multiple complex financing solutions. He decided in 2012 to take a new adventure by coming to Greece for his MBA, and acquire new skills, expand his knowledge and experience, while this move has helped him to move to the Gulf Region after where he worked for multiple reputable financial institutions in Qatar and UAE, where he was part of the team that successfully created a tailor-made financing solution for one of the most sophisticated mega infrastructure projects (airports) in the Middle East that worth EUR 5 Billion.
He recently joined RBC as a Commercial Account Manager, where he is responsible for handling a portfolio of commercial clients in Hamilton and South Western Ontario. He also got recently designated as a Certified International Trade Professional (CITP) from Foreign International Trade Training (FITT), known as FITT International Business Professional (FIBP) in Europe, which is the highest professional designation for Int'l Business and Trade professionals in North America.
He believes that acquiring his MBA from AUEB was one of the most successful decisions that helped him to change his life and career path. He likes to travel, loves reading and playing sports, he likes also to read about Finance, Management and International Business & Trade. Additionally, he speaks English, Arabic and French fluently