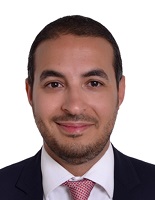 Mamdouh is a Relationship Manager at Abu Dhabi Commercial Bank (ADCB) which is considered as one of the largest financial institutions in UAE & the Gulf Region, he has more than 10 years of experience in Corporate Banking having previously worked for Arab African International Bank (AAIB) in Egypt, Mashreq Bank in UAE and Doha Bank in Qatar.
Mamdouh has started his career working in the shipping industry in parallel with his studies at the Faculty of Commerce in Egypt, after the completion of his studies and earning his Bachelor Degree in the field of Accounting / Finance he decided to change his career and join the banking industry where he started his career as a Credit Analyst being promoted in positions till he became a Relationship Manager in ADCB where he is responsible for handling the large corporates portfolio in Dubai & Northern Emirates.
Mamdouh decided in 2012 to take a new adventure by coming to Greece for his MBA, Mamdouh acquired new skills and expanded his knowledge and experience, and this really helped him to move to the Gulf Region after to join one of the largest banks in Qatar and UAE after, he believes it was one of the most successful decisions that helped him a lot to change his life and career path. He likes to travel and loves reading and playing sports during his spare time, he likes to read about Marketing, Management, Strategy & Organizations & International Business, speaks English and Arabic fluently with a professional knowledge of French.