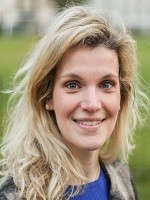 Maria Giannaki is the Global Learning and Development Manager at Carlson Wagonlit Travel based in Paris, France. She is responsible for designing the Global Learning Agenda for CWT, measuring the ROI of L&D programs and partnering with the HRBP for the Employee Experience Strategy.
Maria has 8 years of experience in multinational companies and has being accountable for training, staffing, coaching and career development programmes having previously worked for Vodafone Greece, General Motors UK (Transformation Manager – Training), Nespresso Nestle UK and ROI (Academy Training Manager).    She has experience in managing small and large scale training projects delivering significant value to the business, enhancing the overall capability whilst ensuring that the right people are at the right positions. She has track record of developing academies and one stop shops to deliver the Learning and Development strategy.
Following her postgraduate and PhD studies in Classics at the University of Sorbonne, she has years of experience in teaching and research in Ancient Greek, Latin and French Languages. Furthermore, she is the author of various research papers and she has presented them in various occasions and symposiums around the world. In parallel she is involved in editing and final revision of books under publication.
Her successful participation in the Global Management Program resulted in her following and obtaining the International MBA degree from AUEB which opens a new window of career opportunities. Maria is also an Accredited Certified Coach (ACC) by the International Coach Federation (ICF) and a Fellow of Learning and Performance Institute (FLPI) in London. Mastering French, English and Spanish, has been a very useful tool for her to interact in an international environment.