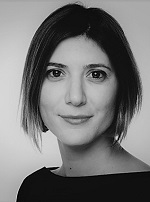 Nevena has 15+ years of experience in communications, marketing and international relations across apparel/sport industry, agency, and banking sector. In the last eight years Nevena has worked in adidas headquarters in Germany in different positions. In her current role, Nevena has been supporting adidas Chief Marketing Officer in drafting and overseeing execution of the global marketing strategy, campaign and performance analysis as well as leadership communication and stakeholder management. Prior to this role, Nevena worked in adidas global corporate communications team, as a Business partner to the Executive Board members across Brand, Finance, Legal and HR, accountable for different layers of communication, from employee engaging campaigns, to strategic project with brand partners and executive leadership communication.
Prior to moving to Germany, Nevena spent five years as a key account in one of the leading regional PR agencies in Serbia and the Western Balkans - Represent Communications/Weber Shandwick affiliate, where she oversaw creation and execution of Media strategies and PR campaigns for the clients in pharma, banking and international relations area.  Finally, in her very first job in the Central Bank of Serbia, for almost 5 years Nevena worked in International Relations department, supporting EU integration processes, related comms, and liaising with international & financial monetary institutions.
Nevena holds a bachelor in English language and literature and an International MBA from Athens University of Economics and Business, major in Marketing Strategy. Born and raised in Serbia, but since 2015 living and working in Germany, Nuremberg. Native speaker of Serbian/Croatian, fluent in English, functional in German, and making her own way in Greek and Italian. She is married and has two kids.
Nevena is a guest lecturer at the London School of Public Relations. She enjoys mentoring younger generations; practices yoga and keeps being in love with great storytelling, cinema, art, travel, and music.