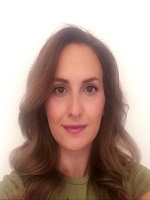 Olga is a Project Manager working in Royal and Sun Alliance Insurance Middle East, part of RSA, one of the world's leading multinational insurance groups. As a Project Manager, responsible for the Middle East Region, she manages the delivery of the Strategic Transformational Projects across Dubai, Bahrain, Oman and Saudi Arabia.  Currently managing the Claims Transformation Program. Olga leads the Project Implementation, Change Management activities with Internal and External Stakeholders as well as the coordination and alignment between RSA, Consultants and other Strategic Partners. Olga's first job in Dubai was in Oman Insurance Company, a Leading Insurance company Operating in Dubai, Qatar and Oman, where she managed successfully the VAT Implementation Project.
Before moving to Dubai, Olga used to work for AXA Insurance Company for almost 6 years starting in Finance but quickly getting involved in the Company's Transformation Program, therefore joining the Transformation Office and starting her career in Project Management. Her main area of responsibility, among others, was Bancassurance Project implementations, Portfolio Migrations and New Products launch. She quickly realized the value of change management and took over the role of the Change Management Workstream Lead responsible to identify innovative ways to manage change across the organization.
Olga holds a Bachelor's Degree in Finance from Athens University of Economics and Business followed by the International MBA Degree few years later. During her employment with AXA she acquired the PMP Certification by Project Management Institute. Olga is very active and loves all forms of exercising. She is also interested in events planning and pretty often helps a close friend of hers who owns an events planning company. Her new endeavor is to learn Arabic.