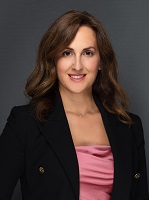 Olga is a Project Management professional with extensive experience in high impact, strategic and operational excellence change initiatives in multinational insurance organizations in Greece,  UAE and Canada.
Olga values diversity and strives for efficient and effective collaboration by coaching and empowering others. She is achieving that by using her valuable experience in Change management practice.
Currently she is employed with Intact Financial Institution in Toronto, Canada. Her role is Technology Project Manager and she is part of the Financial Systems Transformation team.
She is also a member and volunteer in PMI UAE and Toronto chapters, actively contributing to expand the reach of the project management profession.
Before moving to Dubai, Olga was employed with Royal and Sun Alliance Insurance Middle East, part of RSA, one of the world's leading multinational insurance groups. As a Project Manager, responsible for the Middle East Region, she managed the delivery of the Strategic Transformation Projects across Dubai, Bahrain, Oman and Saudi Arabia. Also she used to work for AXA Insurance Company for almost 6 years and was involved in the Company's Transformation Program as a member of the Transformation Office where she started her career in Project Management.
Olga holds a bachelor's degree in Finance from Athens University of Economics and Business followed by the International MBA Degree few years later. During her employment with AXA she acquired the PMP Certification by Project Management Institute.
Olga is very active and loves all forms of exercising. She also loves fashion and interior design and hopes this will become her side hustle one day.